Customers who have worn our jewelry over the last 50 years have often contacted us about the benefits they've experienced wearing our work. Below we share a variety of some of our favorite testimonials. To view our hundreds of inspired designs, click here.


Customer Testimonials
When I first wore these copper bracelets, I had a lot of pain in my thumbs and was losing strength in my hands from swelling and arthritis. The pain disappeared in a few weeks and has not returned, except once when I quit wearing them for a while. One of my first bracelets got lost, and I just received the new one and it has reduced pain in my arm and right side of my body. These are magic bracelets with the combination of copper and magnets, and lovely too. I'm proud to wear them, and do, day and night.
- Evaleena R. 

I did have to quit sewing when my arthritis got bad at age 50 but thankfully I found Sergio's copper bracelets. Been sewing and quilting every day since then.
- Sandy C. 

I have worn your bracelets for about 20 years. I have tried others, some were very pretty, but without the magnet spacer at the ends, I get a weeping sore under the ends. So all I buy is yours because they cause no other problems and relieve the arthritis in my hands. 
- Christine T. 

I love your jewelry and somehow it made my carpal tunnel pain disappear! Thank you! Thank you! I work at a large clinic and my colleagues cannot yet believe that I replaced my ugly brace for a beautiful Sergio Lub bracelet!
- Lonnie F.

It has been about six weeks since I have been wearing one of Sergio's copper bracelets. I do now know whether or not it's the bracelet (must be) but I have virtually no more pain from arthritis and my golf handicap has improved considerably."
- Richard W. 

I am a person who has had rheumatoid arthritis for over 20 years now. It has caused me quite a lot of pain and trouble through the years. I do take medications that I am fortunate to be able to take through my health insurance, however, there are times that the medications just don't keep the inflammation and pain down, and pain medications may be disruptive to the body.
I find magnetic therapy very helpful and have been using them over the years. Since I discovered Sergio Lub, I am a customer for life. Gone are the days of plain or sub-standard pieces of jewelry. I love (!) my Copper Sage Magnetic Bracelet. I can literally feel the strength and energy from it. Of course I have many other designs as well, but I use the larger piece on my right side due to scoliosis, and I always wear one on my left side too.
Since I am such a believer, I also sell to friends, family and co-workers. My husband loves these too and swears that his magnetic Seven Metals has cured his tennis elbow. While we don't make claims for the medical community, we can tell you what has helped us.
I just want everyone to know that I personally am a believer in this therapy, it works for me, and I highly recommend it. Besides, I think they look great on me and my wonderful hubby too!
- Stephanie T.

Just recently I started experiencing some pain in my hand. I put the bracelet on just to wear it and most of the pain went away. 
- Marcia 

On my recent vacation to Canada, I purchased one of your magnetic copper bracelets, and I can't tell you how much it has helped my chronic wrist pain. It has been a joy to wear.
- J.H. 

Your product is wonderful. My wrist is pain free as long as I wear it. I have worn it since 2000 and have no problem holding a pen, typing, or writing.
- M.J. K 

We are in our mid forties and have been noticing some joint stiffness. Since we started wearing the bracelets we feel much better. 
- A.W. 

I started wearing your bracelet three weeks ago. I have osteo-arthritis in my left hand, and had to wear a brace all day. Since wearing your bracelet, I no longer need a brace!
- Sheila D.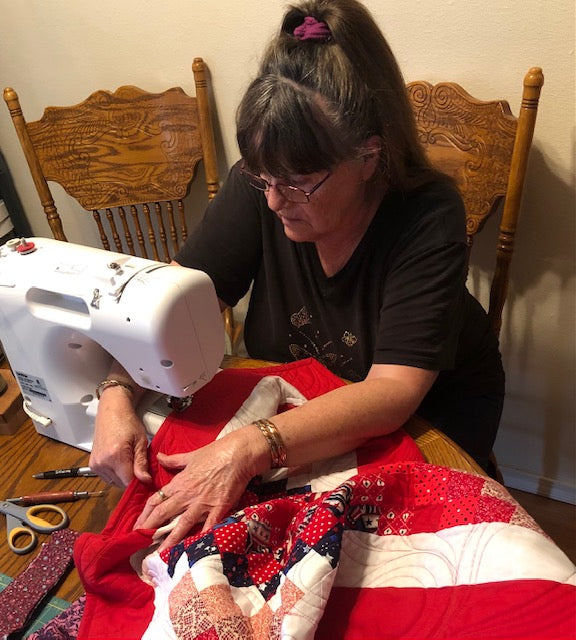 Our #withthesehands campaign celebrates the analog in a digital world, reminding us to honor the handmade.
Sandy Cantrell is the owner of one of our favorite places in Branson, Missouri, The Copper Jewelry Store. We love knowing our bracelets can be found in this location filled with her love and care.
But we also really dig the fact that Sandy, who's 73, has been making quilts for over 45 years.  Although she had to quit sewing when her arthritis got bad at age 50, she was able to resume her daily practice again after finding and wearing Sergio Lub bracelets, which she says, helped clear up her pain. 

She tells us, "My Gramma made quilts out of flour sacks with a pair of scissors and a needle and thread. Thank heavens when the time came for my Mother to teach me to sew we had a Singer foot peddle sewing machine. She always told me that when you create something with your hands you will cherish it. She was right!"
"Out of ten sisters, I was the only one who took up quilting. From start to finish of a quilt I think of my Gramma and Mother. There is such a sense of peace and accomplishment knowing your hands have created such a beautiful quilt. I have made quilts for sister, brothers, nieces, and nephews. They come and help make their quilts. It is a time of bonding and remembering the good old days."

"I also make baked potato bags. Microwaveable baked potatoes. A lot of what I make by hand I give away to friends and neighbors. It makes one heart feel good to see smiles on their faces."
You can check out Sandy's gorgeous quilts online at The Copper Jewelry Store.