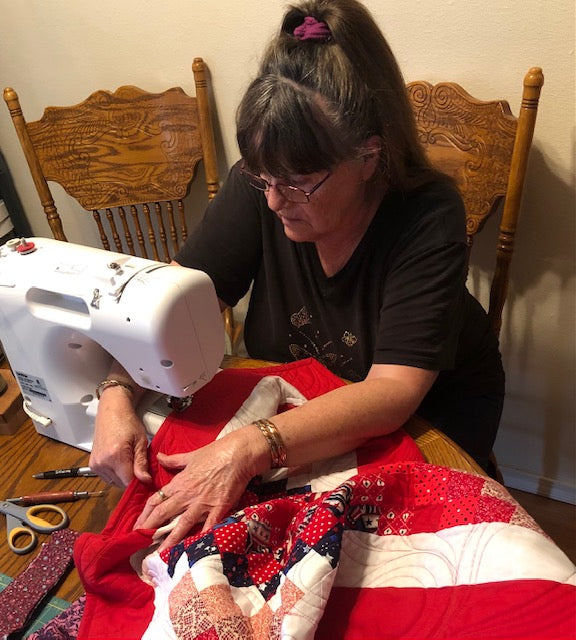 Our #withthesehands campaign celebrates the analog in a digital world, reminding us to honor the handmade.
Sandy Cantrell is the owner of one of our favorite places in Branson, Missouri, The Copper Jewelry Store. We love knowing our bracelets can be found in this location filled with her love and care.
But we also really dig the fact that Sandy, who's 73, has been making quilts for over 45 years.  Although she had to quit sewing when her arthritis got bad at age 50, she was able to resume her daily practice again after finding and wearing Sergio Lub bracelets, which she says, helped clear up her pain. 

She tells us, "My Gramma made quilts out of flour sacks with a pair of scissors and a needle and thread. Thank heavens when the time came for my Mother to teach me to sew we had a Singer foot peddle sewing machine. She always told me that when you create something with your hands you will cherish it. She was right!"
"Out of ten sisters, I was the only one who took up quilting. From start to finish of a quilt I think of my Gramma and Mother. There is such a sense of peace and accomplishment knowing your hands have created such a beautiful quilt. I have made quilts for sister, brothers, nieces, and nephews. They come and help make their quilts. It is a time of bonding and remembering the good old days."

"I also make baked potato bags. Microwaveable baked potatoes. A lot of what I make by hand I give away to friends and neighbors. It makes one heart feel good to see smiles on their faces."
You can check out Sandy's gorgeous quilts online at The Copper Jewelry Store.