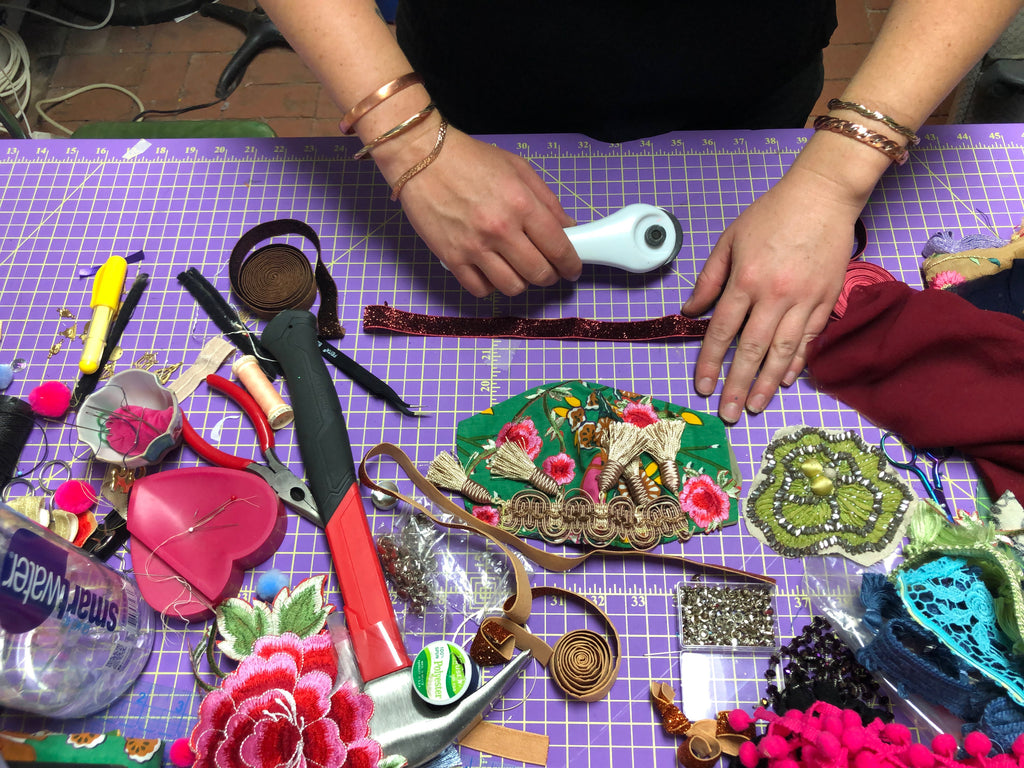 Our #withthesehands campaign celebrates the analog in a digital world, reminding us to honor the handmade.
Our newest sales director Rebecca Schick has a passion for sewing. What else could be more hands-on then creating with thread, needles, fabric, and pins? We sat down with her recently to discuss the merits of the handmade.
Why is it important for us to use our hands?
I feel that our hands are one of the most understated, profound, & integral catalysts for human connection. We are soothed, we are nourished, we are provided for, we communicate, we learn and in kind are taught by our collective hands. Our hands carry us through our lives and worlds, in countless ways and forms. Our hands literally touch, whether directly or indirectly almost every aspect of many different modalities of existence in some way and the impact is immeasurable, insurmountable, often overlooked, and extends a reach that surpasses what we know of time itself. Hands are directly related to our evolution, from the very beginnings of our civilization to current. Our hands are a story. I look at mine knowing that I've rarely squandered their utility. They are muscular, and slightly chubby, covered in wrinkles, already with scratches and scars. I keep my mind aware of the distance they have carried me. Especially now, I am reminded with reverence of the power in our hands.
What is the role your hands play in sewing?
It would prove very difficult to sew without hands, although I'm sure it's possible. Whether I am measuring, cutting, pinning, placing, threading, stitching - even in the conceptual phase when drafting a pattern, or sketching - the hands are involved. I've even started to practice writing and tasking in the non-dominant hand in hopes that I can extend the life of my work.
What kind of sewing do you love and are you working on anything new?
I really loved the hand sewing I did while working for Heidi Johnson, "The Wedding DeTailor." We were involved with a varied and constant flow of high-end bridal gown alterations, which were costly & delicate. It was a tremendous responsibility to take such great care & skill towards something so special and although it was cautious, it felt like very peaceful meditative work. The pandemic put an end to the wedding season, so I was afforded plenty of time to work on personal pursuits. I began to make face masks inspired by one created by a very talented friend and artist Dominique Ellermeier, and the desire to help protect my friends and family. I thought I could take my couture skills and apply the functionality of face masks to create something lighthearted to brighten up the mood during these times. Ever since, I have been crafting bizarre and eccentric pieces of PPE couture for the brave souls who wear them.
What is your life's philosophy?
Laugh as much as you can. Dance like no one is watching and every chance you get. Love deeply. Eat well. Have fun. Show up for your people. Let go. Take every chance to be kinder. Be what you want to see in the world. Follow your bliss. Stop doing things you don't want to do. Be honest. Realize your faults. Learn-change. Help each other. Listen to music. Stop and smell the roses. Give a good hug. Be patient. 
What is your favorite Sergio Lub bracelet?
Connection. It feels weightless, and I think the design is very beautiful. It reminds me of the invisible connective strings between us.
In the photos above, Rebecca wears the following SLJ bracelets: Harvest Dance, Copper Creek, and Copper Band.
For a glimpse at Rebecca's DIY couture and fashion PPE, visit her Instagram page: @hausofschickofficial